Connie and Ray Copeland's Cessna 340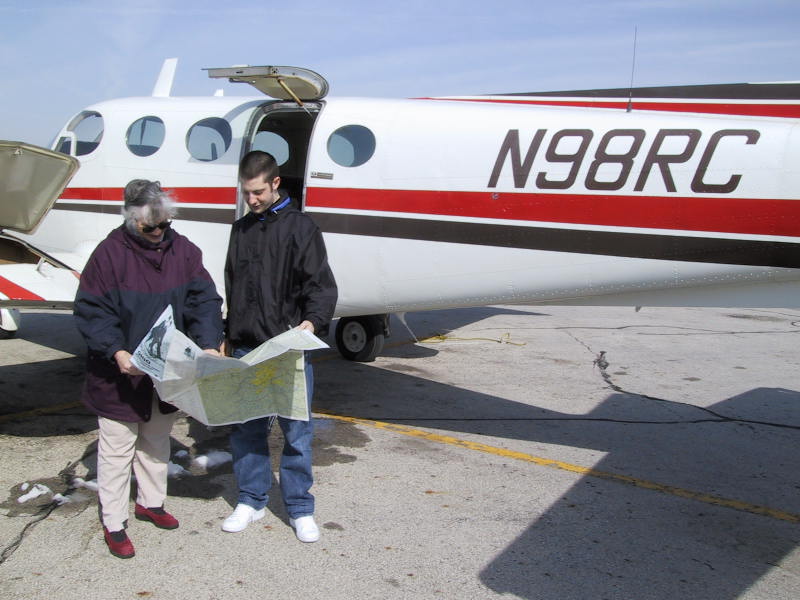 Here's Connie Copeland, briefing a passenger about the sightseeing flight over Lake Erie he's about to experience in the Copeland's 1973 Cessna 340. The passenger is a teenaged relative from England, who had never before flown in a private airplane. Of course, we let him handle the controls a bit. Afterwards, Mark claimed the 340 is easier to fly than Microsoft's Flight Simulator!
The Cessna 340 is a turbocharged, pressurized, piston twin. With a maximum cabin differential pressure of 4.2 pounds per square inch (290 hPa), the cabin altitude reaches 10,000 feet at about Flight Level 230. The airplane is very comfortable in the high 'teens and low twenties, where it carries up to six people at 200 knots or slightly better.
N98RC has a Collins 3-axis autopilot and a Bendix/King Vertical-Profiling radar, gained newly overhauled 325-horsepower (243 kW) RAM engines in 2013, and in 2014 upgraded its GPS to a Garmin GTN750 system with ADS-B In and Out.